Sexy Halloween Costume Ideas: Catwoman with Thad from The Defendants
Photo by Lil Beltz Read more …
A few clips from Halloween Horror Nights 2010. Open from September 24th to October 31st.
Halloween Horror Nights 2010
Prepare for a new level of terror at Universal Studios' Halloween Horror Nights where horror legends come to life.Experience 5 new mazes based on the most popular horror themes and movies of all time. Nightmare on Elm Street with Freddy Krueger, Friday the 13th with Jason Voorhees, Saw featuring horrific new traps from the film series, House of 1000 Corpses in 3D Zombievision — created by horror expert Rob Zombie, Vampyre: Castle of the Undead.
Make your way through scare zones terrorized by killer Klownz, flesh-eating Freakz, asylum Lunaticz and, for the first time, La Llorona (The Crying Woman) who, after drowning her children and herself, returns to the living, wailing for her lost children and searching for new souls to replace them.
Dare to survive the Terror Tram that's been hijacked by serial killer Charles Lee Ray trapped inside the body of the pint-sized Chucky doll. Ride the first-ever roundtrip express tram tour directly to Skull Island for Peter Jackson's King Kong 360 3-D and keep the thrills going on popular rides Jurassic Park in the Dark, the Revenge of the Mummy coaster and The Simpsons Ride. And back by popular demand, see the newest installment of Bill & Ted's Excellent Halloween Adventure show.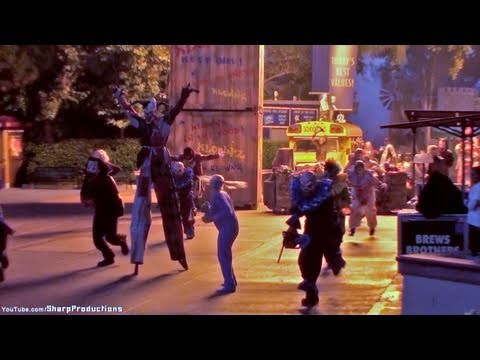 Halloween Bash with The Wind-Ups
Saturday October 30, 2010 9 p.m. till Sunday October 31, 2010 2:30 a.m. at J. Fox's Resteraunt & Local
Halloween Saturday Night party with the Wind-ups, Winnipeg's best cover band!
Do I really need to say anymore? Don't miss this fantastic local combo for a special Halloween event dress up/dress down…its a party!!
Halloween Costume Idea: Captain Davie Jones from Pirates of the Caribbean
Photo by Lil Beltz Read more …
Halloween Costume Idea: Jack Sparrow and His Band
Photo by Lil Beltz Read more …
Halloween Costume Idea: Kiss
Photo by Lil Beltz Read more …
Halloween Costume Idea: Braveheart
Photo by Lil Beltz Read more …